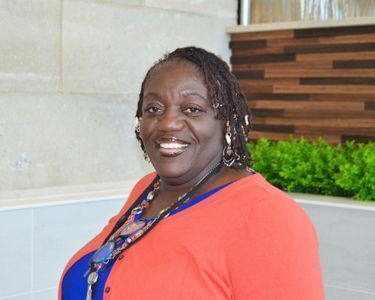 Dr. Teresa Lewis-Hunt, DNP, APRN, FNP-C, (aka Buffy) is a native of Defiance, Ohio. She moved to Lincoln in October of 1992. She completed both Masters of Science degree in Nursing with specialization as a Family Nurse Practitioner and a Doctor of Nursing Practice from South University, located in Savannah, Georgia.
Teresa is married with five children and three grandchildren. When time permits, she loves spending time with family, reading literature of any kind, and listening to gospel music. Teresa enjoys working with individuals with diverse backgrounds and learning about new cultures, which is why she chooses to practice at CenterPointe. Teresa brings her experience working in an emergency room and intensive care unit setting along with her passion for technology to CenterPointe. Her intuitive sense of taking care of people's needs makes her a great asset to the team. Teresa is compassionate about preventive medicine with a holistic care approach. 
You can schedule an appointment to see her at the CenterPointe Campus for Health & Wellbeing, located at 2202 S. 11th St. in Lincoln. Call 402-475-5161 to schedule an appointment.
Her favorite poem:
Infinite Words of Wisdom: Poem: "One Minute" …………. I only have just one minute; Only sixty seconds in it; Forced upon Me; Cannot refuse it; Didn't seek it; Didn't choose it; I will suffer if I lose it; Yes, one tiny little minute; Yet ETERNITY is in it.     (Author Unknown)
Most challenging Career Obstacle: 
Not valuing the "gift" of time at an incredibly young age.